TDG #019: On A.I. and Travel (Part 1)
Thoughts and experiences using A.I. to plan a trip.
Greetings friends! This is Skylar from The Daily Grog newsletter. At some point, you decided it would be a good idea to give a crazy person your email address and risk wasting your time once a week. This might be one of those weeks.
Today is the first installment of a two-part series on the intersection of Artificial Intelligence (A.I.) and travel. First up is a small test I did with ChatGPT back in January. Next week will be more philosophical.
A.I. is a tricky topic to talk about for oh so many reasons. It's new and highly complex tech to understand - hell, even a good chunk of its developers don't quite know how it fully works. There's also a lot of fear and emotion, especially for creatives, wrapped up in the conversation right now. And everyone has an opinion on the matter - too many voices, too much noise, and very little knowledge.
Though I risk adding to the noise, I figured it might still be a good idea to look at it from a traveler's perspective. There's a lot of money and time spent in the tourism industry, so the applications and desire for A.I. and tools like ChatGPT are pretty far and wide. But there's also a good amount of unpredictable elements, human ones, in travel that might make programmatic problem-solving difficult.
As an aside, this article was supposed to be published back in late January/early February. But for a few very frustrating reasons, it wasn't. Since then, there have been more learnings, evolutions, and discussions around A.I. writ large.
---
A ChatGPT Day in Madrid
This past January, I found myself in Madrid. I was coming off a whirlwind tour of Europe - 8 countries in 8 weeks, moving every 3 or 4 days. I was tired. Tired of planning. And in some cases, tired of doing. So I came into Madrid pretty blind, having done about zero research or planning into the city - no idea what I would do, see, or eat. Well, I knew I was on the lookout for sherry and vermouth, but other than that, I knew nothing substantive about the city.
At the same time, it was four weeks or so after the initial release of ChatGPT (~December 2022). The media world was in a collective frenzy, just figuring out what to do and how to feel about the damn thing. As someone who works in tech, a writer, a traveler, and has a general vested interest in the future of media, I could feel the gravity of the moment.
So I figured, hell, why not test it out by using ChatGPT to plan my day in Madrid? After all, it was a near-perfect test - I was a blank slate, a fresh canvas on which A.I. could paint its rendition of the city.
I didn't do any pre-planning to do this test. I had played around with ChatGPT for other totally normal purposes, like writing a poem about a dive bar, but never in a travel context.
The experiment was simple: I'd fire up ChatGPT on my only morning in Madrid, and whatever it told me to do, I would do it that day.
The Question
Honestly, I was nervous about handing over my agency to ChatGPT. Finding things to do, meandering, and exploring new cities are my special skills (or so I like to think). Letting go of my agency and giving this power over to a computer felt a little...weird.
But the appeal of a tool like ChatGPT is its simplicity. There isn't any configuration or setup required to use it; you start typing a query into the textbox:
"What should I do in Madrid in 24 hours"
This was the response: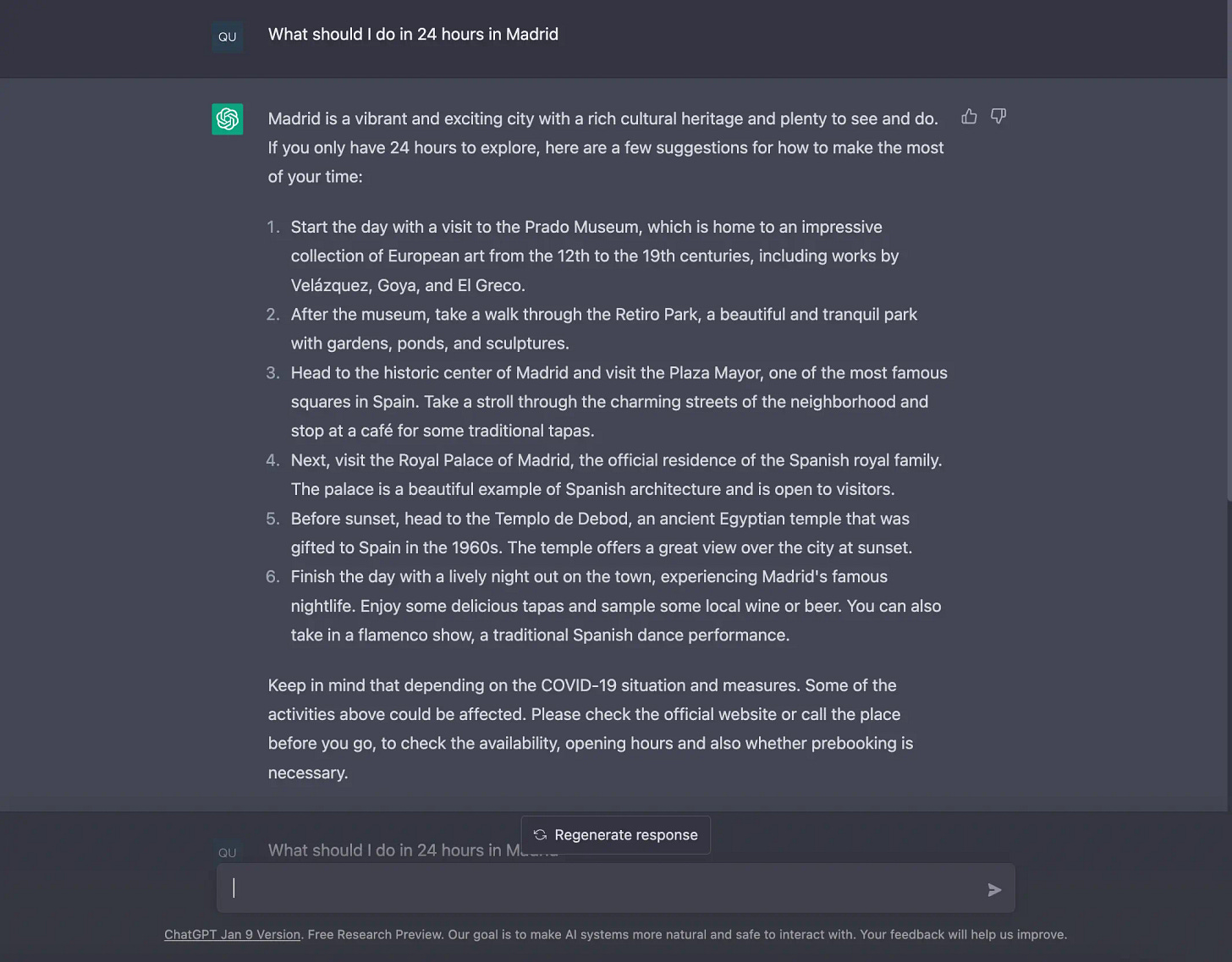 Ok, pretty basic, right? It gave a mix of specific locations, general guidance, and historical facts. So far, I'm not too impressed. Without having been to Madrid, the locations it gave weren't exactly groundbreaking. A palace? A museum? I opened Google Maps, and four of the five physical sites it recommended were clearly indicated as popular tourist destinations.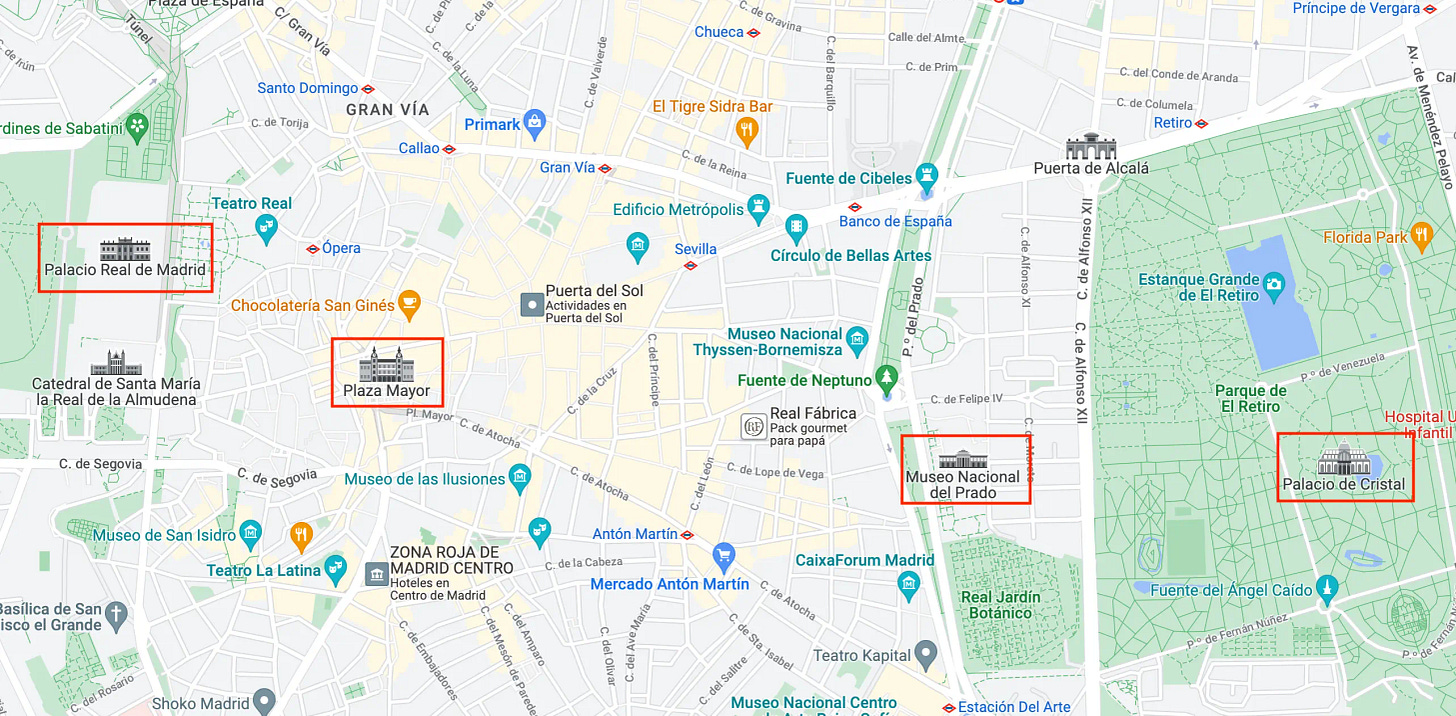 Using the Itinerary
Anyone could go to ChatGPT, type in the same prompts from halfway across the world, and reach some of the same conclusions. But what was it like visiting the spots it suggested and experiencing them as a tourist?
The first stop on our tour was the Prado Museum. Fortunately, since I was there in early January, I could easily stroll in and appreciate Goya's "Black Paintings."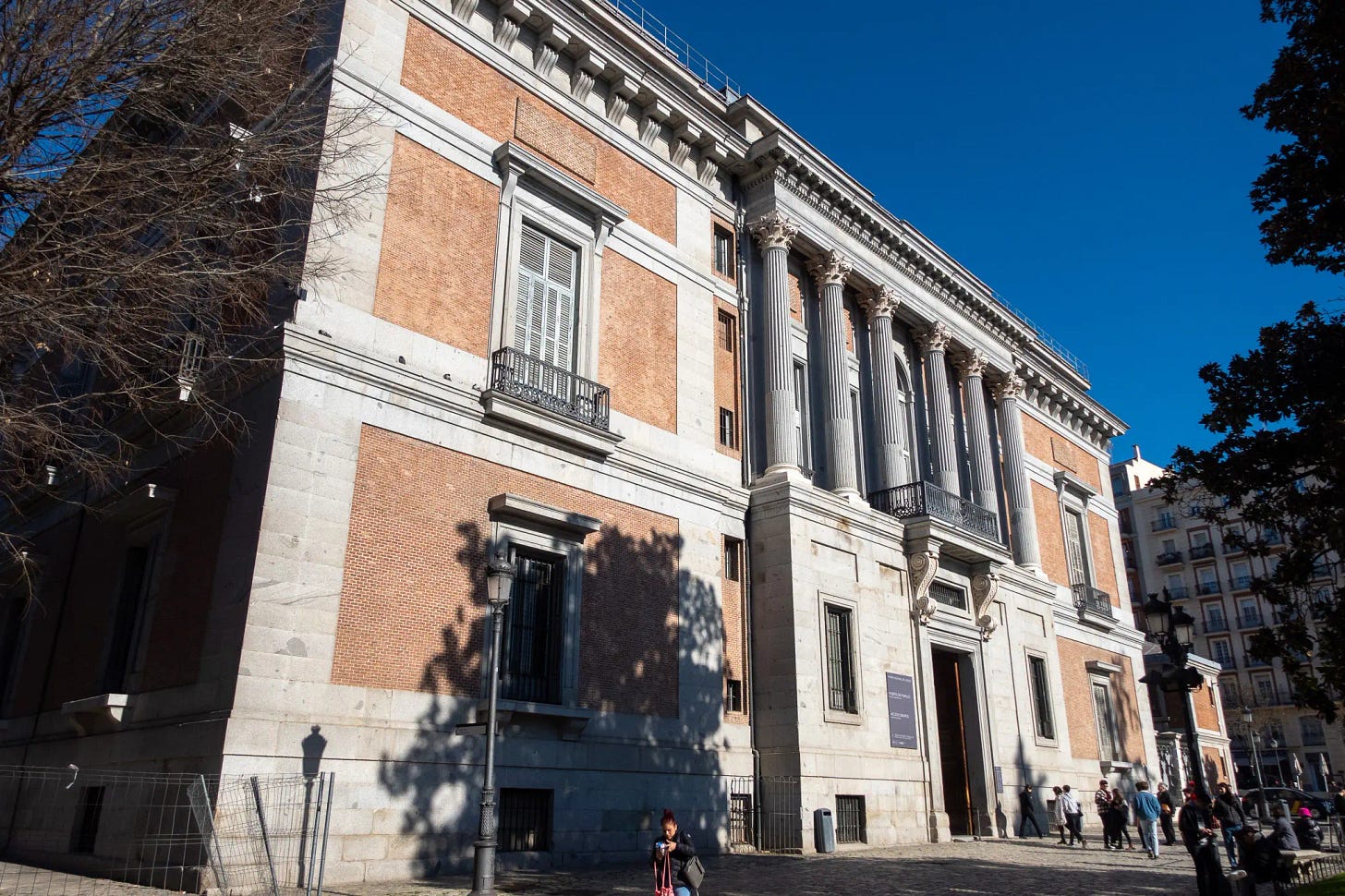 The next stop, Retiro Park, was conveniently close by. It was a beautiful winter day in Madrid, so a stroll through the park was appreciated.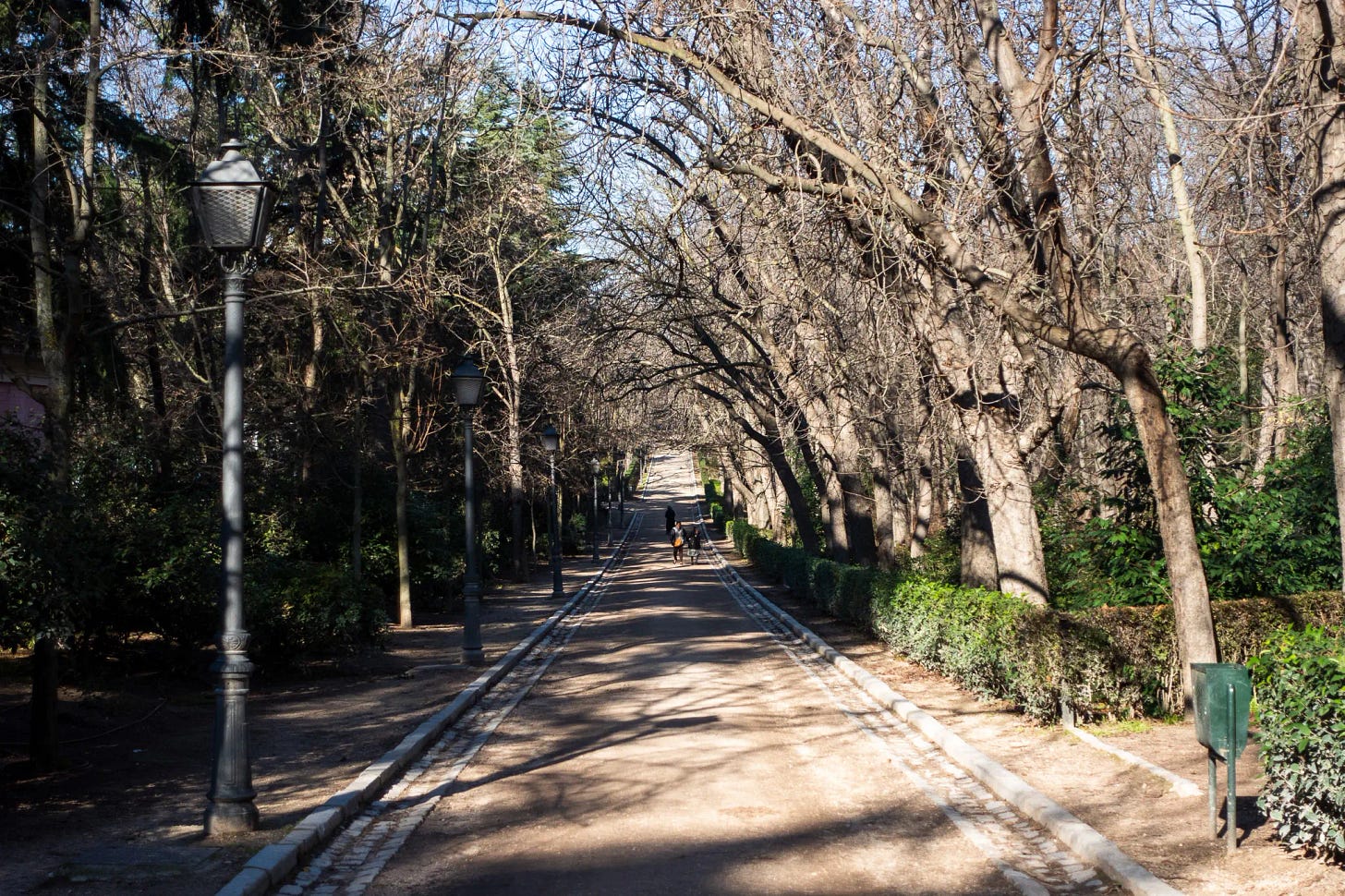 While meandering through the park, I came across the Palacio de Cristal in the middle of Retiro Park. This was a pleasant surprise and not on the itinerary initially laid out by ChatGPT.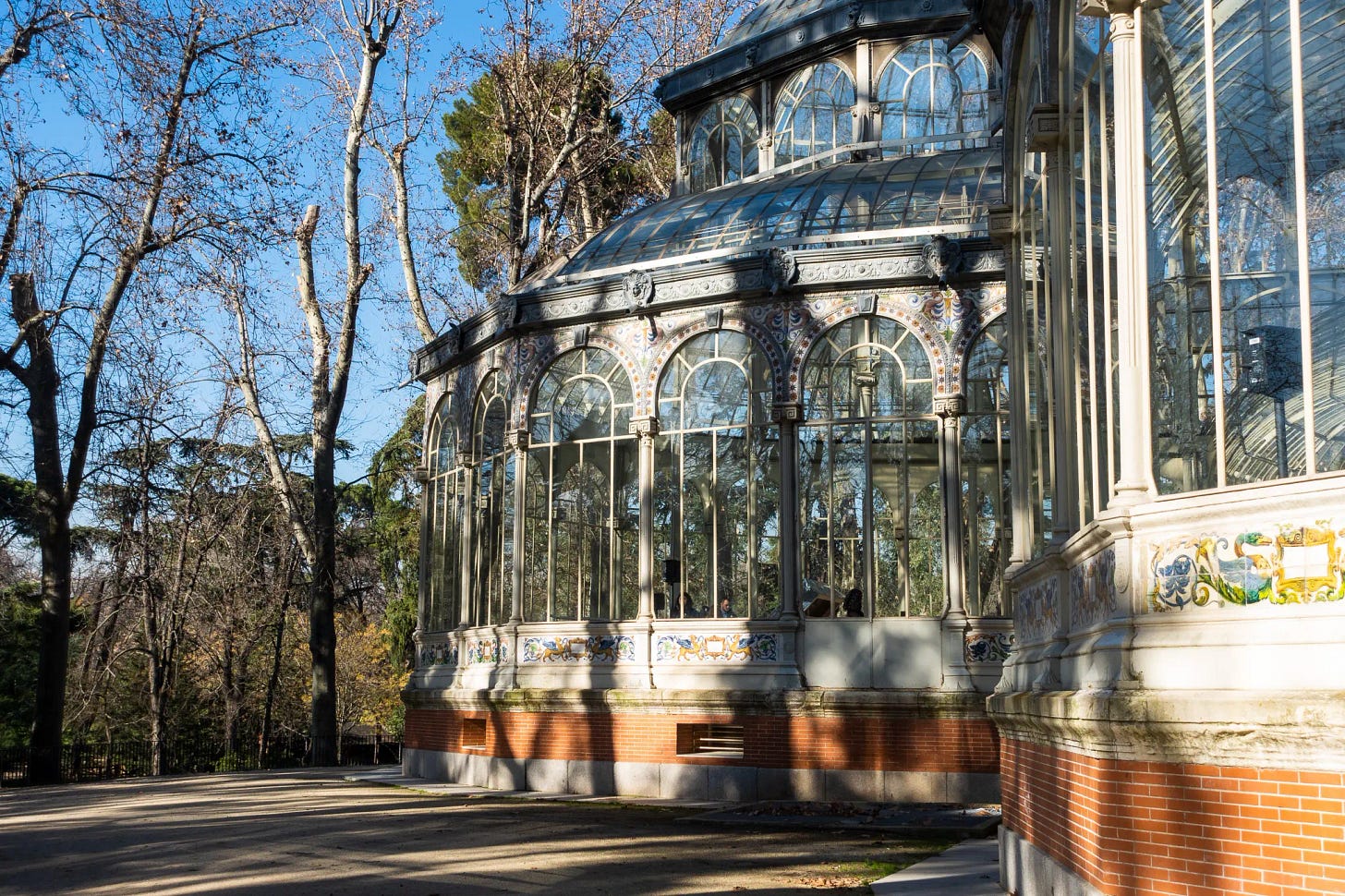 The next suggestion was to wander through the historic center, try some tapas, and visit Plaza Mayor. From the Crystal Palace, Plaza Mayor was a roughly 30-minute walk. I'm a walker, so that wasn't too much of a problem, but it could be a little far for some. It's worth mentioning since ChatGPT didn't suggest much about transportation between the activities.
Other than a stop at Plaza Mayor, this section could have been more specific. Those who aren't fans of aimlessly wandering might be looking for a little more substance here. Fortunately, I love wandering with no real agenda, so this was perfectly fine.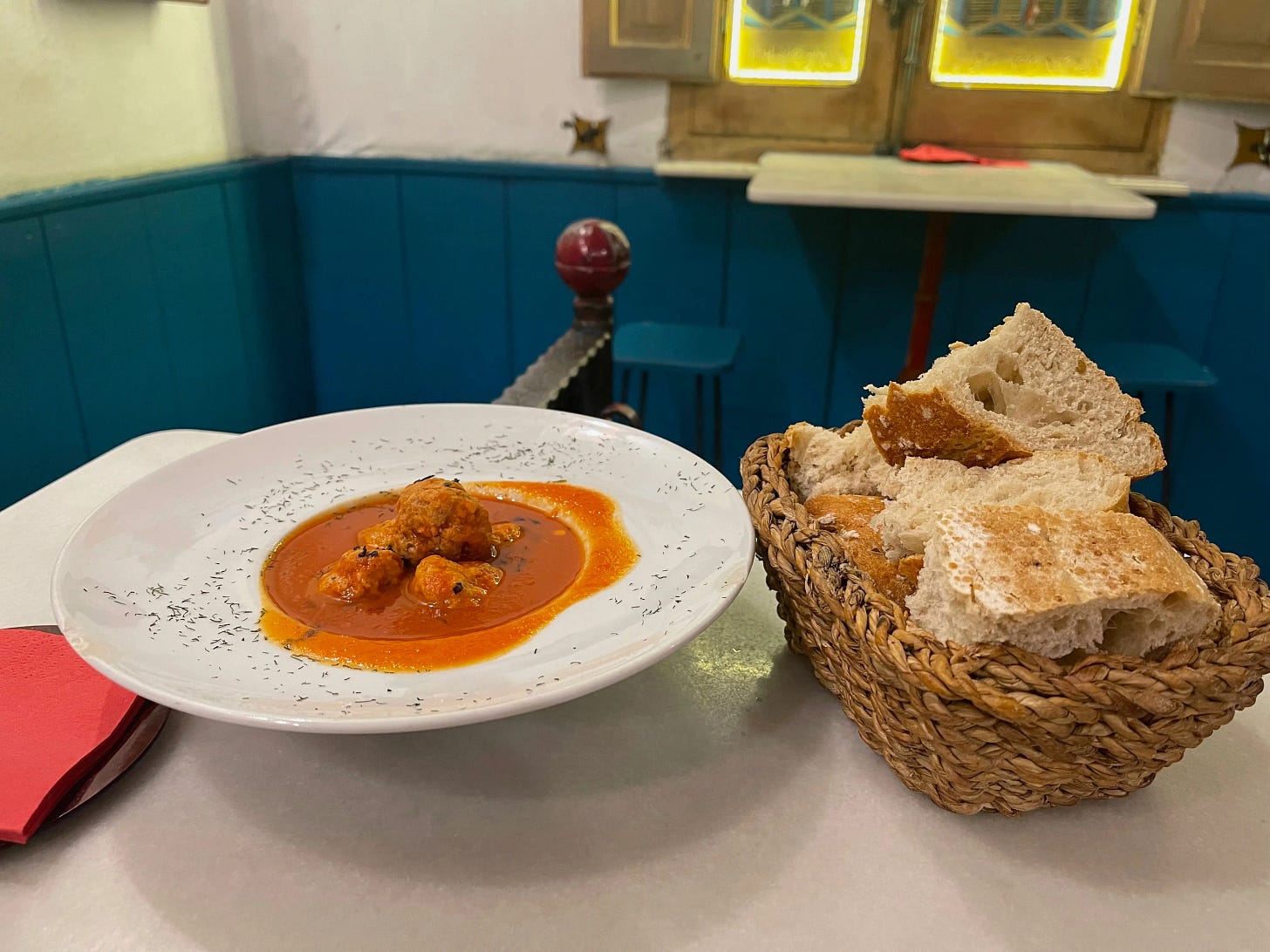 It was late afternoon and time for the next stop: the Royal Palace. I didn't go into the palace itself, but outside the palace, folks were gathering to watch the impending sunset.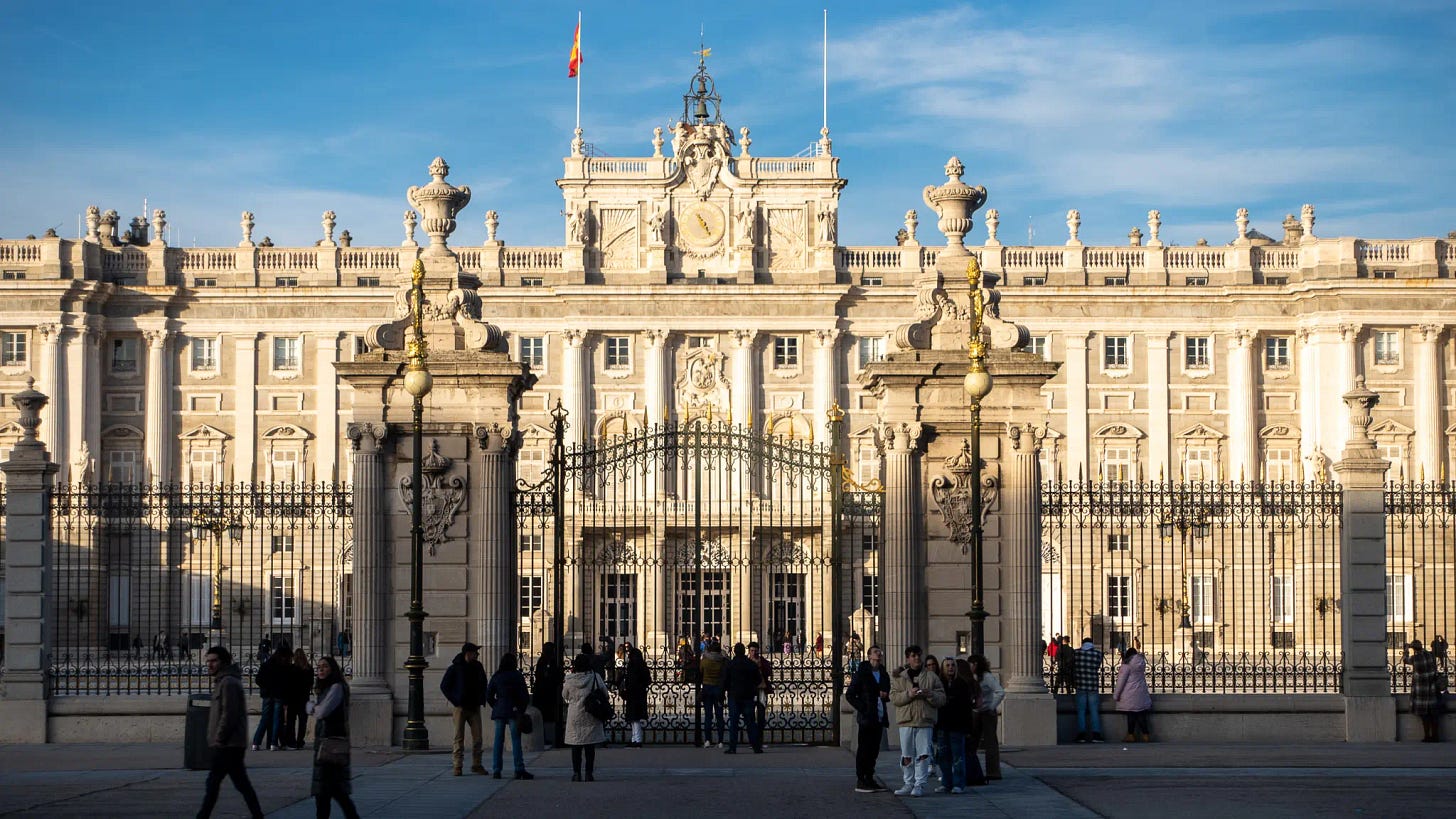 A few minutes walking away was the penultimate stop, the Templo de Debod. There was a significant line to get into the temple, so I opted to sit in the park to do a little people-watching and take in the views.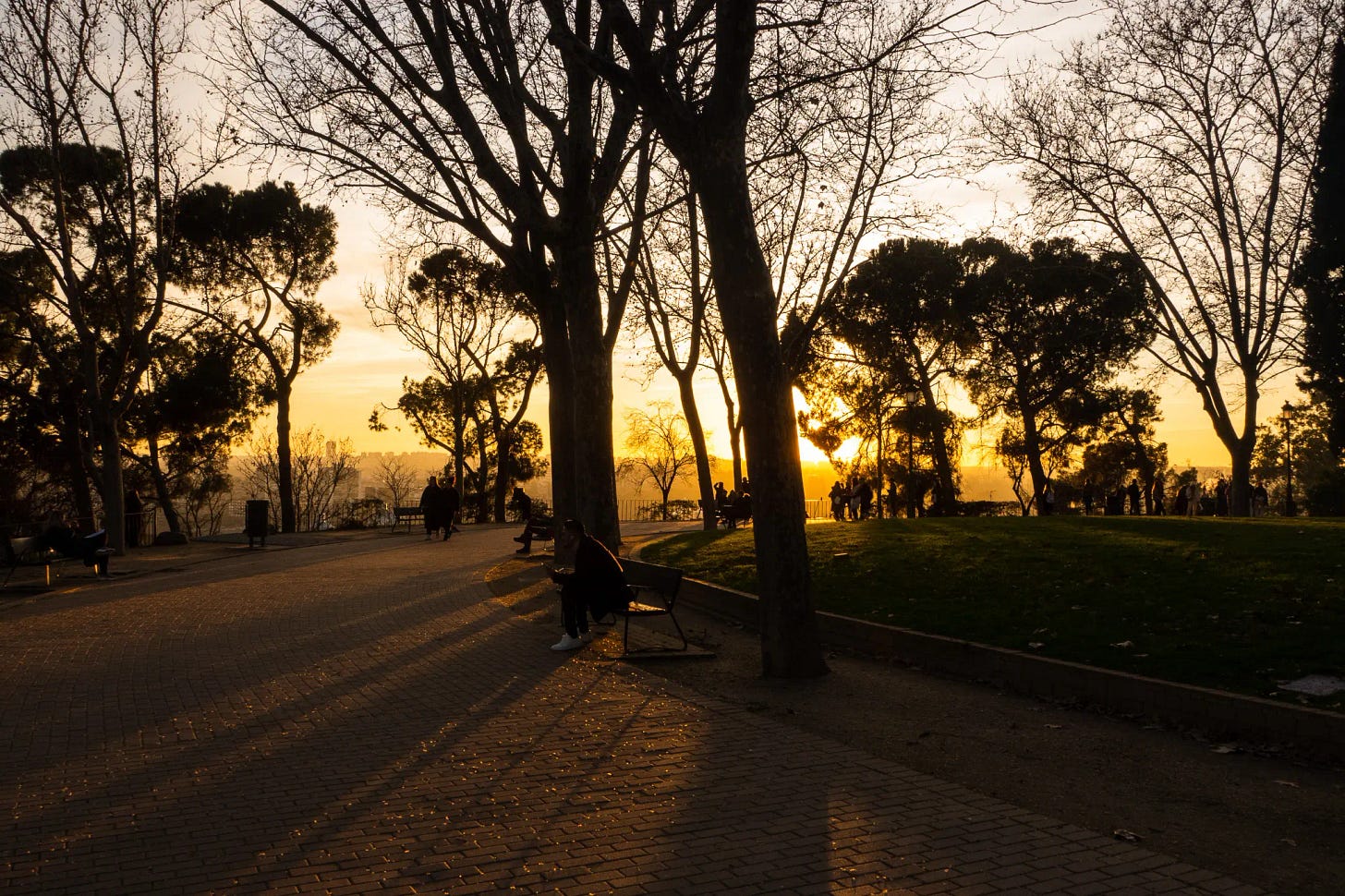 All in all, it was a nice day. A busy day, but a nice one. What surprised me the most was that the recommendations were all within relatively close proximity and walking distance. Using it felt like ChatGPT planned the stops intentionally to get you closer to the next destination. Was that intentional? If it was, that's pretty cool.
But the suggestions themselves were nothing novel. All five of the specific locations that ChatGPT recommended for me in Madrid were in the "Top Attractions in Madrid," according to TripAdvisor. And if I had done this experiment in the summer, I would've been shoulder to shoulder with every tourist in the city.
Left to my own devices, I would have taken the day a little slower. Most likely, I would've just meandered through the city, hopping from tapas bar to tapas bar while telling myself I "didn't have enough time" to be cultured.
Though ChatGPT can be more helpful by providing contextual information along the way:
Like asking about vermouth...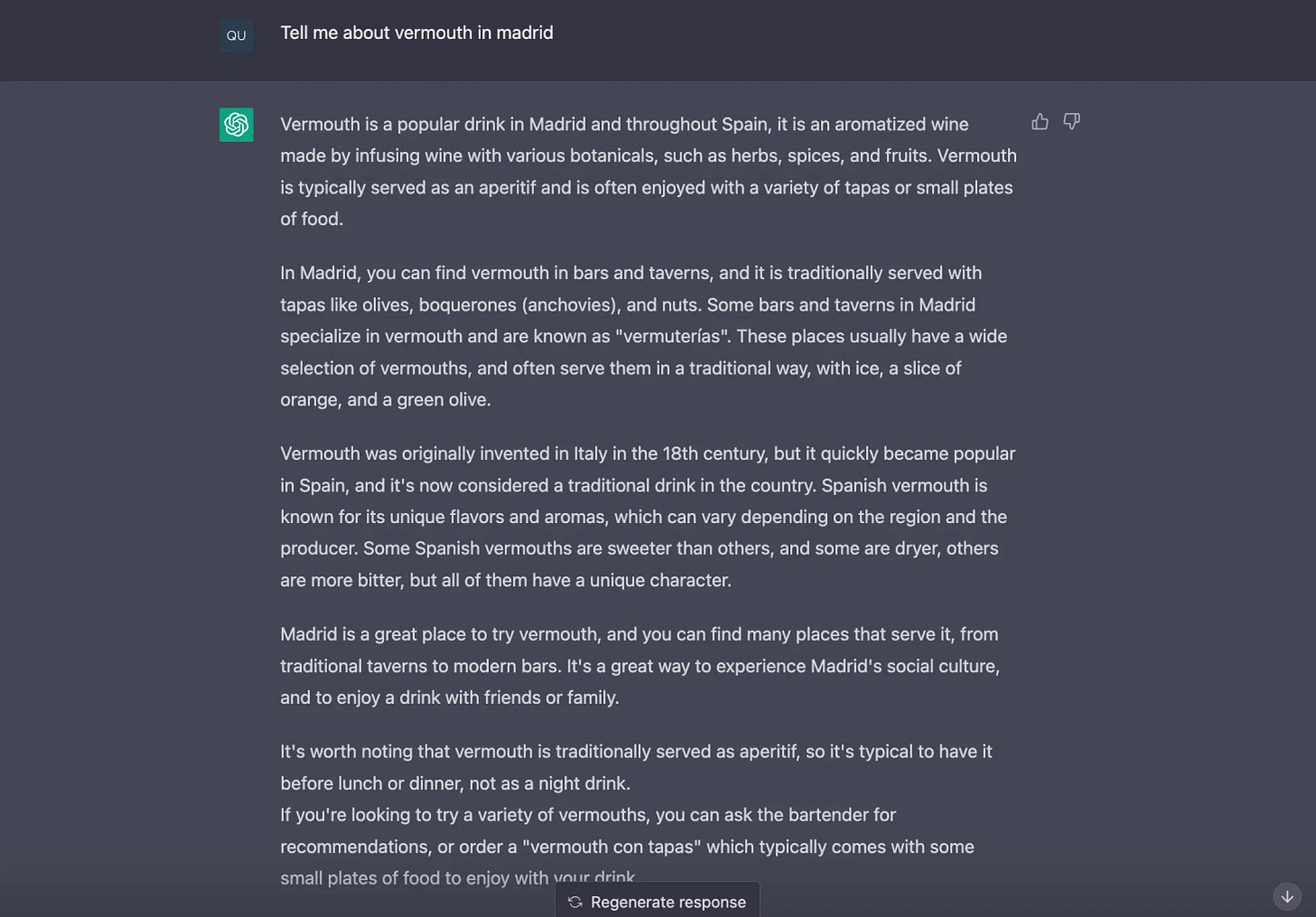 Or about the architecture...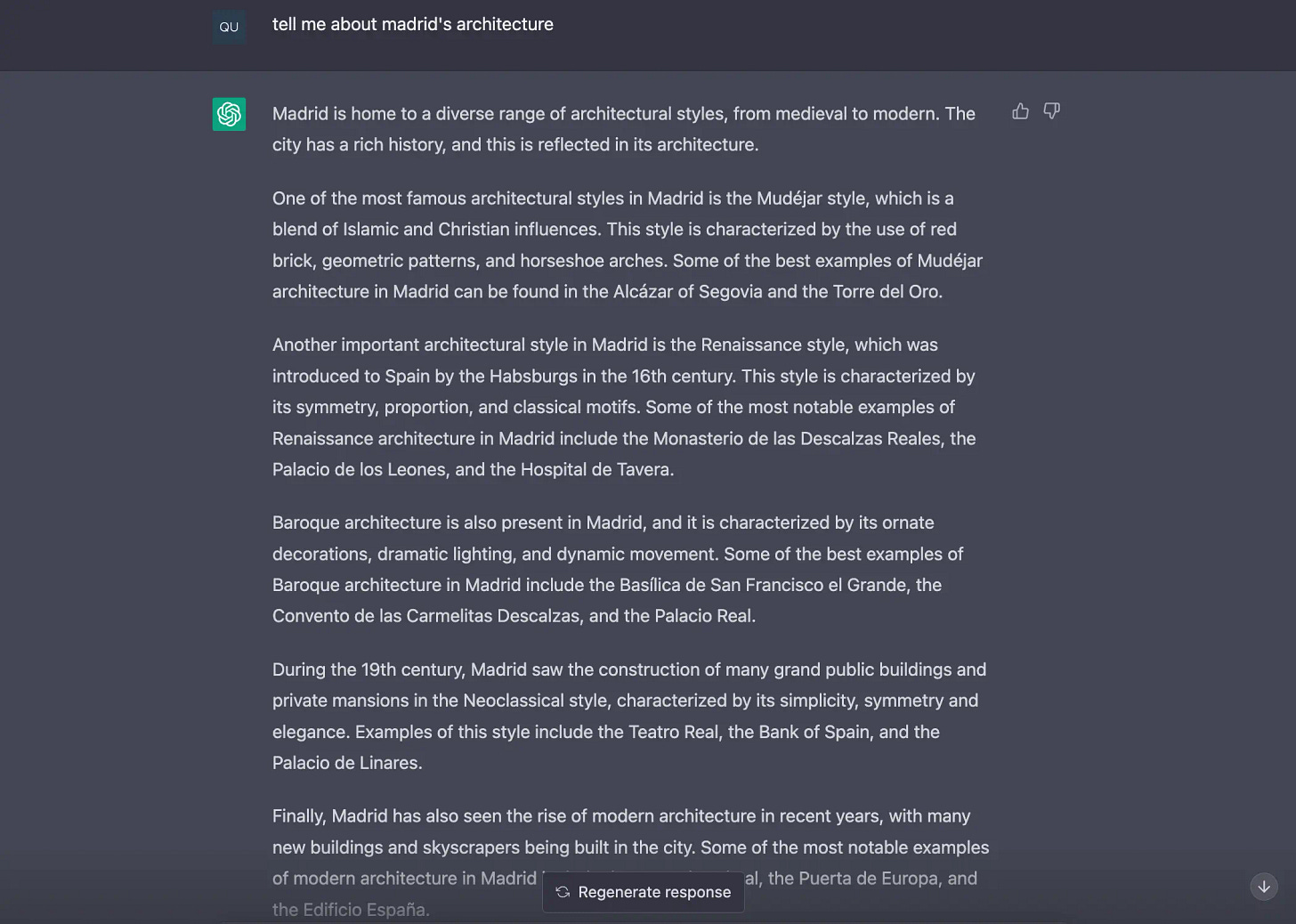 That type of information seems to be more in the wheelhouse of ChatGPT rather than planning or itinerary building, at least for the time being.
---
I'm not the only person who's played around with A.I. and ChatGPT in a travel context over the past few months. One writer from Condé Naste had a similar experience to me, finding the travel advice vague and general at best and just incorrect at worst.
Some people have found that ChatGPT has helped them with budget traveling. But I have some doubts about this use case. Sure ChatGPT can provide you a rough breakdown of what your costs should be, but this feels more like wishful manifesting than anything - there's a pretty big difference between seeing numbers on a screen and actually booking a trip. Plus, some of the multi-country itineraries it lays out are...interesting.
Other folks have used travel-specific A.I. tools, like GuideGeek, to plan their date nights out in a city, whisking them from speakeasy to speakeasy. Sounds fine, but you can find a list of speakeasies in your city in about 3 seconds. So I'm not sure of the value added there outside of novelty. Also, when I used GuideGeek to find "live music in Montevideo," three of the six bars and restaurants it recommended were closed, and one was actually in Buenos Aires.
All this to say, your mileage may vary.
---
Since I did this little experiment, there have been significant progressions in the A.I. chatbot world. ChatGPT released a paid tier, which gives folks access to their upgraded GPT-4 model, which seems to be much better than the previous version I used (GPT-3). And now ChatGPT Plus users get access to plugins and the ability to search the web, opening up the ability to get information about current events or happenings (GPT-3 only includes data up to 2021). You can see a world where ChatGPT (or some other tool) can tell you what events are happening and maybe even buy tickets, but it feels like we're a little far away from that moment.
There also seems to be this perplexing meta-industry of "prompt engineering" starting to pop up. This feels like a Ponzi scheme, right? Sure, how you phrase the questions you ask the chatbot does matter, but this still feels pretty shady.
Even with the advancements, the use case of these A.I. tools for the travel world feels sloppy. But that's not to say all the kinks won't be worked out in a matter of months. With all the money and development time poured into these systems, it won't be long before A.I. can plan your entire trip.
But my issue with A.I., at least in the travel/culture context, isn't how effective it is (and will be) as a tool. My concern is more about an ongoing trend that A.I. will likely only accelerate.
Let's talk about it next week.
---
Have you used A.I. to plan a trip yet? What do you think? Let me know your experiences!
Cheers,
Skylar